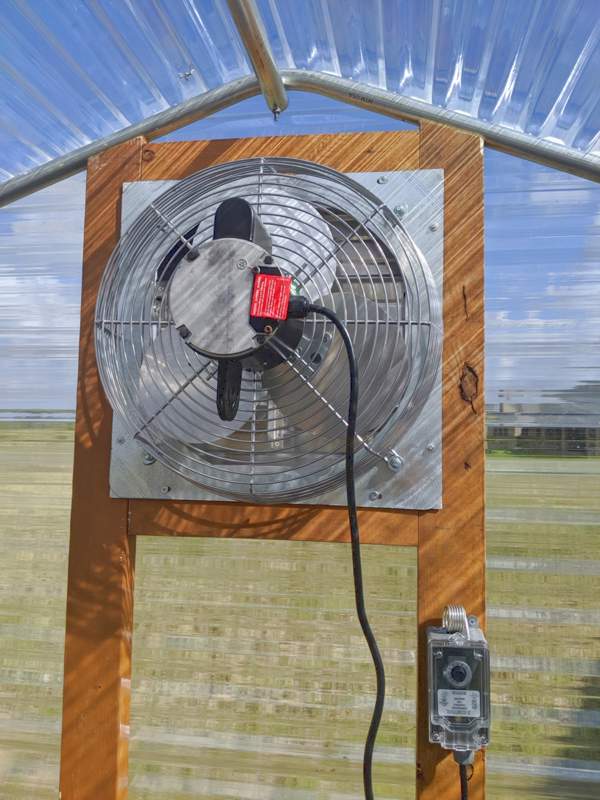 Fan, Shutter, Thermostat Combination
Your greenhouse will gain 30-50 degrees in temperature on a sunny day, so even in winter you're likely to need to get rid of some extra heat.
These fans are far superior to passive roof venting offered by competitors, because these actively move air out of the greenhouse to allow for much better heat exchange.
All the fans are powered by 110v, and only require an extension cord to plug in, nothing special. The plug in is near the back of the greenhouse on the inside. The waterproof thermostat will turn the fans on whenever the temperature gets above a certain point - I set mine to 85 degrees - so your plants won't melt.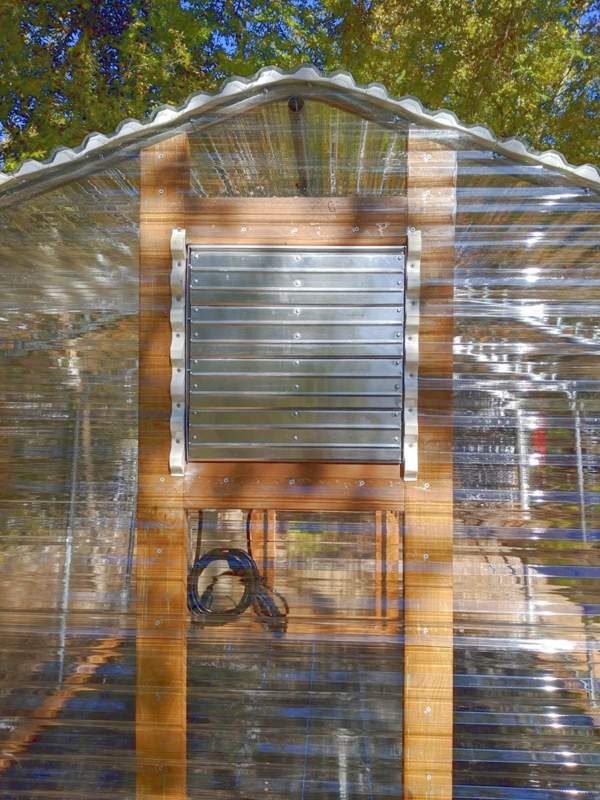 All our greenhouses come with at least one fan included in the price.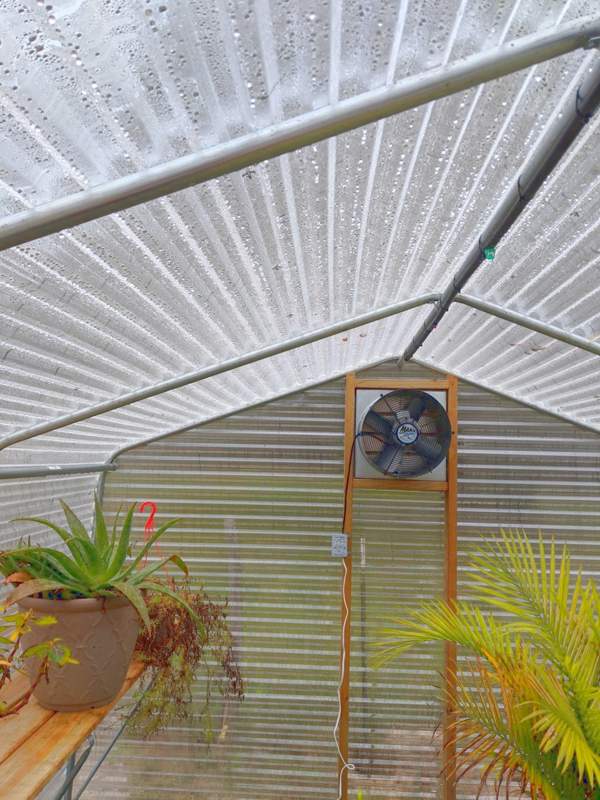 Misting System
Never worry about your plants when you're away for the weekend again! This system automatically waters, on an adjustable schedule, everything in the greenhouse even when you're not home!
The misting system just requires a dedicated water hose hookup, and is powered by two AA batteries (included). All our polycarbonate greenhouses come with misters included in the price.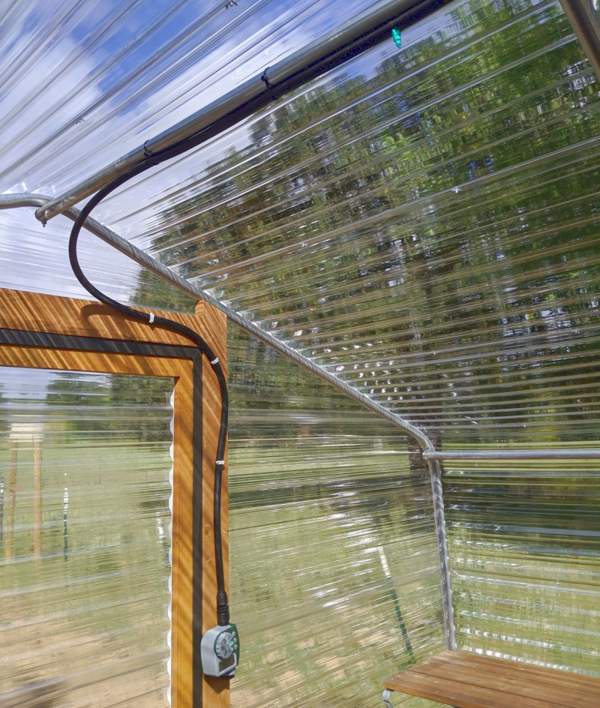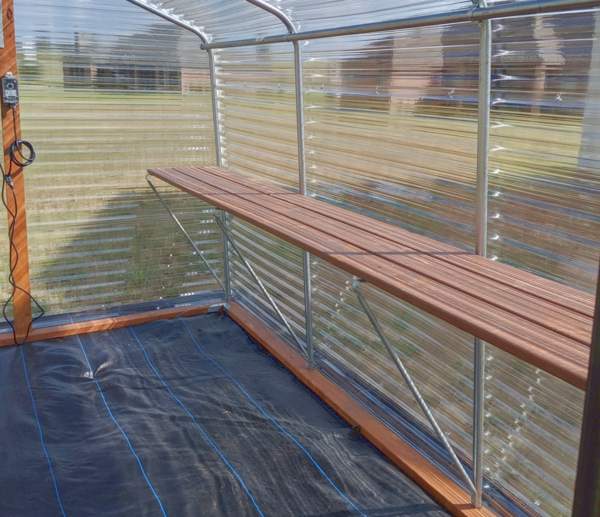 Benches
These handy benches are built to the wall of the greenhouse and require zero floorspace!
They are quite sturdy, measuring 17" deep and are about 36" off the ground (kitchen cabinet height). They can really help to make your greenhouse feel bigger, by giving your more places to store plants - or just to have a nice place to sit on a stool and work with your plants!
Benches are $160 per side for a 12' long greenhouse, $240 per side for a 16' long greenhouse, and $320 per side for a 24' long greenhouse.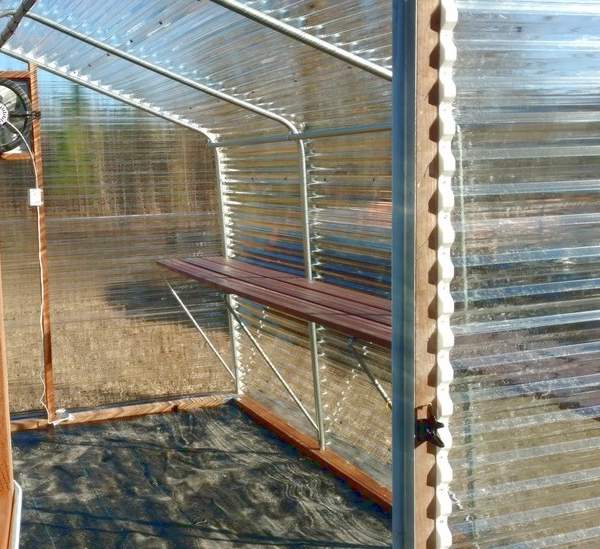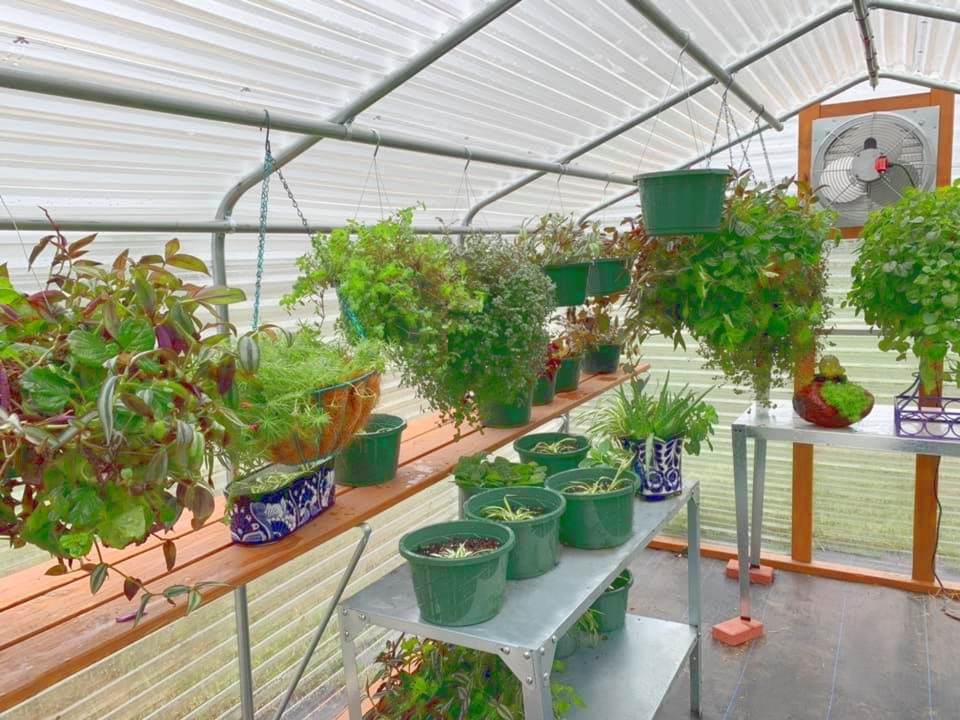 Hanging Basket Pipes
These are strong metal tubings that run the length of the greenhouse, typically 18" in from each side for the first set, 36" in for the second set.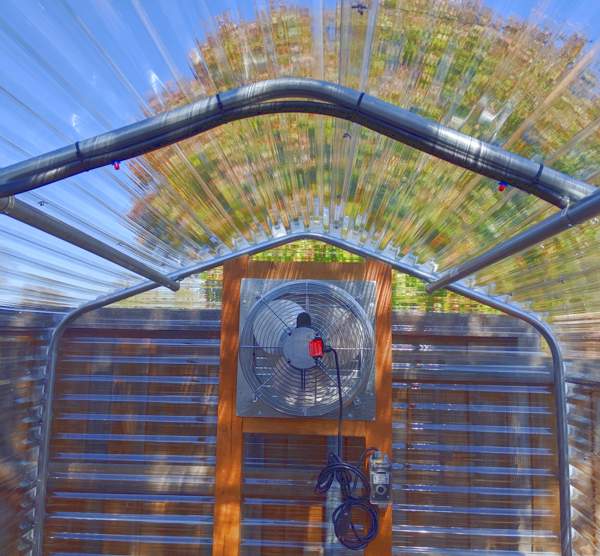 Heaters, Shadecloth, etc...
We don't sell heaters, shadecloth, etc, ourselves, but below are links to some we would recommend on Amazon
Heat Storm HS-1500-PHX-WIFI Infrared Heater. It has wifi capability and remote thermostat controls. Regardless of which heater you choose, we recommend a separate floor fan to help circulate the air inside the greenhouse to make sure the heat gets to all the cold corners – any fan will do. (Not the exhaust fan that comes with the greenhouse, of course).
We also recommend a separate wireless thermometer, such as this one SensorPush HT.w Wireless Thermometer , so you can monitor the temperature from your phone and get alerts if the temperature in the greenhouse drops dangerously low.
If you use your own electric heater, you might consider plugging it into an automatic thermostat which will turn it on if the temperature drops below 40 degrees;a very simple and inexpensive one is here Farm Innovators TC-3 Cold Weather Thermo Cube
You should also use shadecloth, which definitely makes a difference; it can help extend your season by a month or two, spring and fall. A few that you might use are this one e.share 70% Green Shade Cloth, which is more affordable, or this one soclerg 70% Aluminet Shade Cloth Fabric, which is aluminized and reflects a lot more light instead of absorbing it (thus, will cool more) – but it's more expensive.