Affordable. Professional. Hassle‑free.
We currently have a 3-6 week lead time!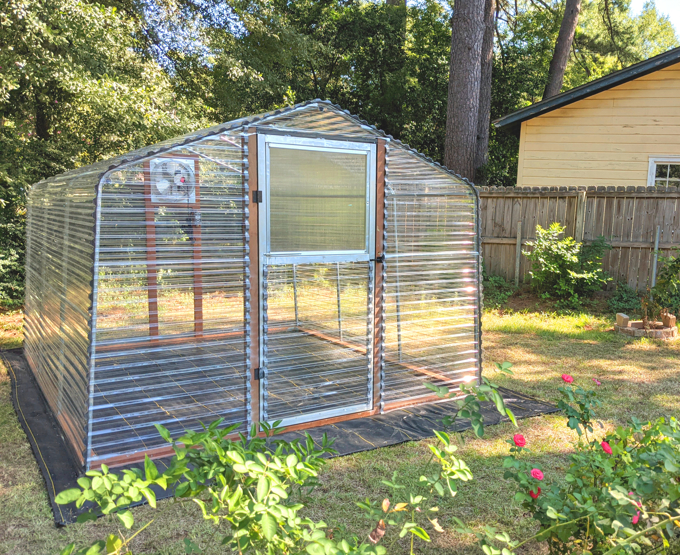 We offer high quality affordable greenhouses for sale, built to order in East Texas. We deliver to all nearby states and install them for you, so when we leave you're ready to start moving in your plants! Please compare our prices to the competition, and you'll find that our greenhouses cost significantly less than similar greenhouses – even less than kits – and all of ours come with free installation!
We build small greenhouses because fifteen years ago we needed a hothouse of our own and couldn't find one that was affordable. So we developed our own simple, efficient design, found good quality materials, and built our own. Now we pass the savings on to you, because we remember what it was like to want a greenhouse!
All our greenhouses are made of 1-3/8″ galvanized tubing, which you know as the top rail from chain link fences. We bend this in a smooth bend so our greenhouses have a classy shape that fits in any backyard!
Then we frame the ends with treated lumber, build a sturdy aluminum door, add a thermostatically-controlled fan and shutter for venting, and install a misting system to water the entire greenhouse at once - on a timer, so you don't even have to be home to care for your plants!
For the flooring, all greenhouses come with professional grade weedblock, which is a special kind of plastic fabric rather like a tarp that blocks weeds, but unlike a tarp it allows water to penetrate. You can walk directly on it indefinitely - it's tough stuff! - or you can add gravel or wood chips on top.
Of course, we also stake all our greenhouses down securely, and over the years we've had *very* few problems with wind.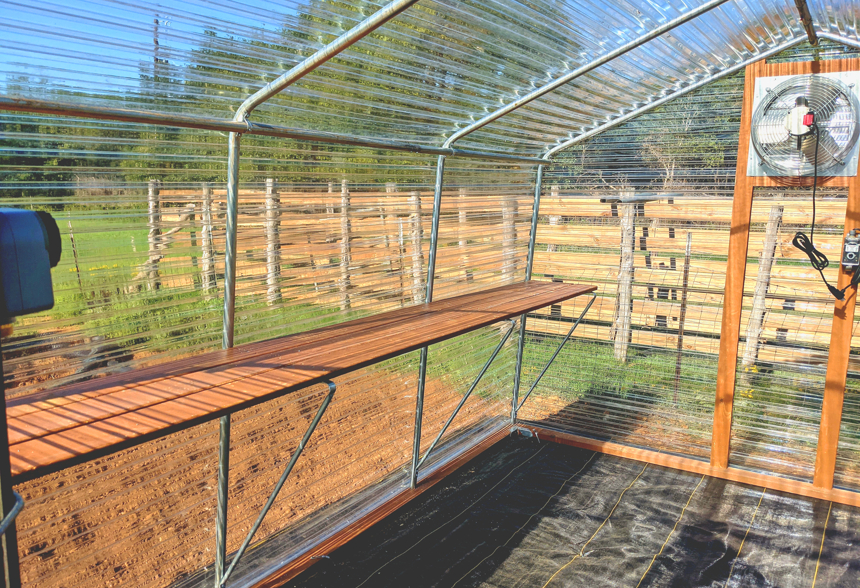 Our most popular greenhouse by far is our deluxe 12'x16' with polycarbonate covering for only $3300 - it comes with venting fan, shutter, thermostat, and misting system and free installation! Or if that's a bit too big for your yard, we offer a 10'x12' with all the same extras for only $2499!
Demand on these has been so high since we introduced these designs that we're usually booked up several months in advance... If you compare us to any competitor you'll see why!
If you're wanting a greenhouse you never have to worry about again, look no farther than this greenhouse! The covering is made of durable polycarbonate sheets with a 5 year manufacturer's hail warranty.[1] This is the same stuff soda bottles are made of – it's practically indestructible! Plus everything in the greenhouse is covered by a bumper-to-bumper 3 year warranty, parts and labor![1]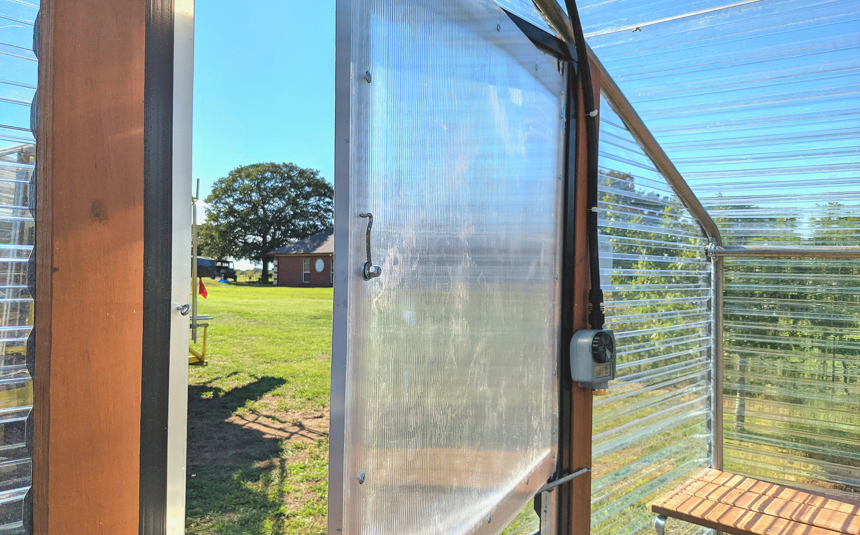 We are proud to announce our latest innovation, a door-mounted inlet shutter! This now comes standard on all our greenhouses and provides for pass through air-flow for the fan to pull cooler air into the greenhouse.
It is spring-loaded so it automatically closes when the thermostat turns the fan off, and it can be locked closed on the coldest nights to retain as much heat as possible. We designed and built this window from scratch in our own shop, so it fits perfectly into our door design and fits perfectly with the esthetic of our greenhouses!
Our business works like this; we are a small family business with very few employees, and we do all the construction from scratch in our own shop - we start with treated lumber, pipe, steel, aluminum, and do everything from bending the bows to welding our own doors and frames and windows, to staining and sealing the lumber. All this takes months and months to prepare, and we can't install and prefab at the same time, obviously. So we typically do all of our installs in October-January for orders sold all year.
We are now taking orders for fall 2023. If you put down a deposit now, we currently have a 3-6 week lead time if you're in this map. We are in high demand, so if you want a greenhouse this fall, order ASAP. We have a lot of preorders already so we cannot guarantee an exact date but it will be within this window.
The map at left shows our install area; (not the free delivery zone which is only Tyler/Longview/Mineola). If you're not on the map, we may not be able to install in your area, so don't put down a deposit; instead contact us and we'll put you on a waitlist (not guaranteed, no deposit necessary). We do occasionally foray beyond this map, and if you're on the list, we might be able to get you taken care of next fall, but no promises.
903-576-6800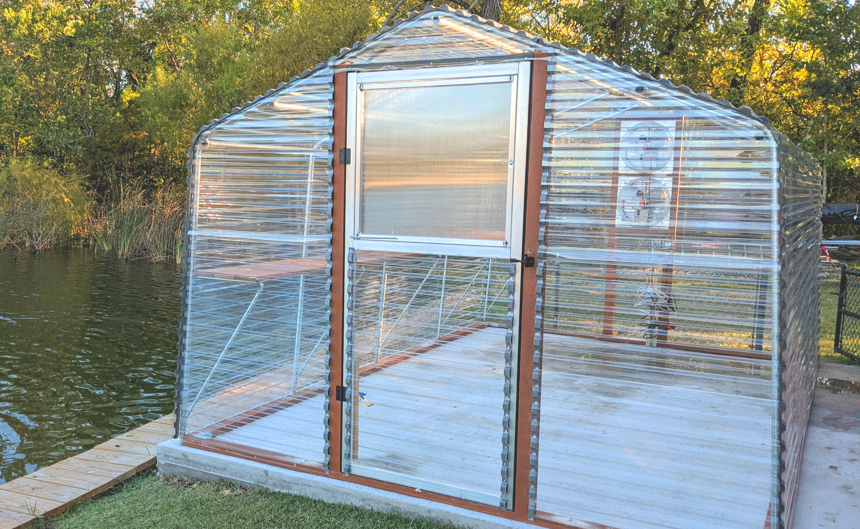 We work with greenhouses because we wanted our own, so we understand what you need and are happy to work with you on matching up the right greenhouse for your application. Although we occasionally work with larger industrial greenhouses, mostly we help individuals like you get small-to-medium sized greenhouses in their backyard for keeping houseplants, getting a head start on the growing season, or experimenting with hydroponics and aquaponics systems.
We designed this greenhouse from scratch, and we do 100% of the work here in our shop, so it's totally made in the USA. If you shop around, you'll see that our delivered and installed price is cheaper than even kits of comparable size and quality! This is because we use our own efficient designs, source all the materials ourselves, and do all the work right here in East Texas! So give us a call today!